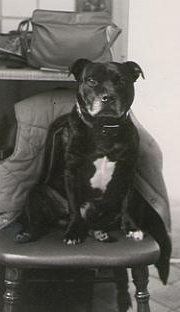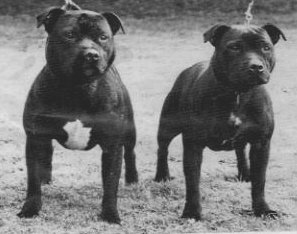 Hello!
WELCOME to my world -- the wonderful world of
English Staffordshire Bull Terriers!
My name is Nancy Malec and I have been breeding and showing Staffordshire Bull Terriers since 1978.
My grounding in the breed came in the 'motherlode', Great Britain, where I lived for seven years while my husband was in the military. After
reading in the newspaper (incidentally, there are two dog newspapers that are published weekly in Great Britain) that the first show I was to
attend had a total entry of 9,000 I was sure it was a typo and that it really was 900. Wrong! Great Britain is dog show heaven with the largest
supported show (while I was in the country) having a combined entry of 17,000.
Then I decided that I must bring back a couple of champions. To make a long story short and impress those of you who are numbers freaks:
1. The Staffordshire Bull Terrier was the ninth most popular breed at the time.
2. Staffordshire Bull Terriers were the most popular Terrier breed in Great Britain.
3. Staffordshire Entries at general championship shows and breed club shows went from 100 to 400+ per show.
4. There is no Best Of Breed --- Open Dog and Open Bitch include all the champions being shown plus the Champion Certificate winners and wannabees.
I bred my first litter in 1978 and by 1983, Tom and I were named Top Breeders of Staffordshire Bull Terriers in the United Kingdom.
What came in between was lots of work, time, travel and money. I was firmly dedicated to breeding sound, healthy, athletic animals that
were great fun and an extremely handsome classic type.
I lived in East Anglia and eventually became treasurer of the East Anglian Staffordshire Bull Terrier Club (EASBTC), delegate to the Breed
Council, Co-Editor of the EASBTC newsletter, Feature Writer for the Stafford and general slave to my Staffs!
I bred two English champions and finished a third that came from a daughter of my foundation bitch, Astaff Clares Cassandra.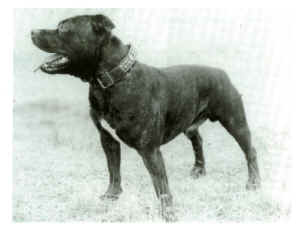 English and American Champion Yankeestaff Bolivar (Crufts CC winner 1984) was mated to
English Champion Ainsair Fancy Lass. It was a challenge to get her in the ring , all due to her
great athletic abilities and intensity in which she tried to ingest other canines---incidentally she
was my two toddlers' boys best friend and it was not unusual to find her in doodly boppers
(alien head gear!), cowboy hats, or the children's clothing.
The result of that mating produced two champions and a stud dog that precedes many of our most handsome Staffordshire Bull Terriers.
He was Yankeestaff Rough Rider who used to visit with Prince Edward when the Prince used the library at Jesus College where his owner was
a monitor of the rare books. Rough Rider would accompany his owner to work on a regular basis.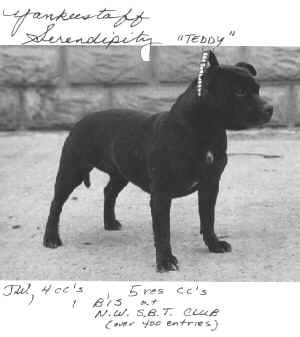 English Champion Yankeestaff Serendipity was one of the most submissive people animals
I've seen and also one of the hardest biting and devious pursuers of other canines. "Teddy"
went Best In Show at the North West Championship show in an entry of over 400 Staffords.
(Our Mazda wagon came home loaded with trophies including a 5 footer!)
American Champion Yankeestaff Cajun Queen gave her owners many years of joy and fun.
Cajun was likened on occasion to the proverbial "dumb blonde!" In later life she learned to dive
into a deep pond and retrieve logs for sport.
I made many friends in Great Britain and in Israel (another story for another time) and judged many Staffords at many dog shows including
two breed club shows in Great Britain and the Bull Breeds Show in Israel.
I came back to the U.S.A in 1986 and since then have bred or owned more than 65 Staffordshire Bull Terrier Champions including Obedience
and Confirmation AND the first white and blue Champion ever in the breed, Champion Mystic Blue. Champion Yankeestaff Dillinger was
top SBT in the U.S.A. in 1995. Mexican Champion Yankeestaff Staffy Von Fraud CDX was a top obedience canine in Mexico.
I along with Jo and Alan Cannon, and Sean and Marcie Holbeche founded T.A.P.S. (Texas Association for the Preservation of the Stafford)
to encourage athleticism, soundness and good temperament in Staffords. It's a great thrill for me to meet all the Yankeestaff pet owners
and Staff people everywhere and see how much they love their dogs, and to hear all the interesting antics their dogs get up to.
Without a doubt the most rewarding thing I have ever done with a SBT was going with Bolivar on his rounds as a licensed hospital visitation
dog at the VA hospital in San Antonio in the last 18 months of his life. I still tear up thinking of what great joy he brought to the disabled vets
and how much he enjoyed going there.
God Bless
Nancy Malec 804-210-1526
malec@world-net.net