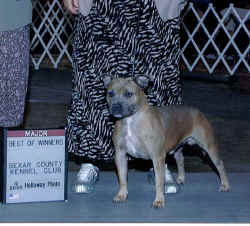 Champion Yankeestaff Preachin' The Blues
(Ch. Yankeestaff Mystic Blue x
Yankeestaff Black In Time)


Meet Yankeestaff Mighty Joe Blue!
He's shown here at eleven months old!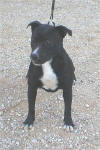 Yankeestaff Esperanza (shown at 1 year)

"Yankeestaff El Dorado" at one year.

Yankeestaff Haley

Ch Yankeestaff Mystic Blue

Aztecstaff Queen LA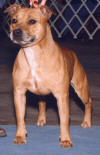 Ch Yankeestaff Wildboy (Ch Bazooka Joe of Yankeestaff x Ch Yankeestaff Sadie Lady)

BlueBonnet

Yankeestaff Miz Scarlett (Ch. Yankeestaff Wildboy x Ch.Ruff n Tuff Delilah)

Yankeestaff Darch Jade

Roust-a-bout JD

Yankeestaff Skye Blue (Ch Yankeestaff Mystic Blue x Yankeestaff Blanca)

Yankeestaff Lady Margaret (Ch. Yankeestaff Mystic Blue x Yankeestaff Ebony Spice)
CLICK HERE to read about Margaret's heroics!

Crackerstaff White Knight (UK import)
IN LOVING MEMORY OF A GREAT STAFFORD, OUR BELOVED CUPID:
Regrettably, we have recently suffered the loss of Crackerstaff White Knight (Cupid) in a tragic accident.
Cupid was nearly nine but left us prematurely like the world lost another "full of life figure", Steve Irwin... Watching the Crocodile Hunter on TV helped me get over my fear of snakes when we were having a rattlesnake heydey here in Texas a few years back...
Steve Irwin also owned a Staffordshire Bull Terrier named Sui, who was on the show with him and lived to a great old age.. In honor of Steve Irwin and
Cupid, who are hopefully running around together somewhere out there, I
have named Cupid and Esperanza's pups all Aussie names! I know the two
of them aren't at rest but having one adventure after another over the
Rainbow Bridge.
~ We miss you! ~

Yankeestaff Blue Maid
"Josie"