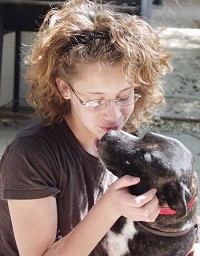 PINT-SIZE PROTECTOR — Angela Wilson, 12, of Pleasant Valley, gives Margaret, a Staffordshire Bull Terrier, or "Staffy," a hug. Margaret recently stepped in front of an attacking stray dog to protect Angela from harm. (Dakotah M. Davis/Courier)
Pooch gets protective
Recent incident underscores county problem with dog dumping

By DAKOTAH M. DAVIS
Regional Editor

PLEASANT VALLEY - Furry. Brown. One foot tall.

Unusual qualities to look for in a nanny, by anyone's standards.

But Margaret, a 30-pound Staffordshire Bull Terrier — an English breed lovingly referred to as the "nanny dog" — proved herself the perfect guardian recently when a stray dog attacked her handler, 12-year-old Angela Wilson of Pleasant Valley.

"She's not even our dog," said Angela's mother, Patricia Wilson. "That's why I am so wowed by this."

Early before school on the morning of April 25, Angela headed down Hoover, the gravel road in front of her house, to give the diminutive Margaret some exercise. With an American Kennel Club dog show scheduled for the coming weekend in Grove, Okla., it was Angela's job as a junior dog handler to keep Margaret in shape. The duo had barely started on their morning jaunt when, without warning, a 50-pound mixed breed stray surprised them and attacked.

"I took her for a walk, and a dog came out and started grabbing my pant leg," said Angela, a vibrant sixth-grader with curly brown hair. "I think it had issues."

Angela's mother was just moments behind her daughter when the snarling stray made a grab for Angela. Patricia yelled. Angela yelled. And they both watched as Margaret jumped in between Angela and the stray. The two hounds locked in a scramble that lasted only seconds, in Patricia's account, but sent the stray scurrying and Margaret straight to the vet.

By the time they got back to the house, Angela was covered in blood, but none of it was hers, thanks to Margaret. In her efforts to protect her handler, Margaret's upper lip was torn back two inches and bled profusely. Two puncture wounds dotted her nose.


Margaret's injuries required quick surgery at local veterinarian Tammy Zimmerman's office, but getting the feisty show dog to leave her charge wasn't easy, said Patricia. Zimmerman put Margaret under heavy sedation so she could stitch her lip, but when the dog heard Angela say goodbye, she jumped up and tore off the bandages wrapped around her head, still in protection mode.

"They call these dogs the nanny dogs because they protect children," said Patricia. "She obviously proved that's true."

Margaret, whose owner lives in Adkins, Texas, returned to the Wilson home a little shaky, but she is otherwise okay. Out under the carport to pose for photos, the sweet-natured dog barely left Angela's side.

Patricia said the incident brought up a couple of issues for her: the stray dog problem she said exists in her semi-rural community and people's perceptions of what makes a dangerous dog.

As a show dog, Margaret tours show rings, not fighting rings, even though her breed contributed a portion of its DNA to the infamous pit bull. Patricia thinks bad owners make bad dogs, not the breeds themselves.

A local official confirmed the stray dog problem. Although the Cowley County Humane Society took in nearly 2,300 unwanted or stray animals last year, director Theresa Harden recognizes that dog dumping remains a problem in the rural portions of the county. Harden said there are too many animals and not enough homes.

"It's a national problem. Every town, every area, faces it," said Harden. "It's a people problem."

People can leave unwanted animals at the humane society for free, said Harden. Donations are appreciated. The humane society actively encourages pet owners to spay or neuter their pets.

The Wilsons said they "see a new stray dog every week." Pleasant Valley sits just outside the Winfield city limits and is a prime place for people to ditch dogs they no longer want, Patricia said. That, combined with the fact that many people in Pleasant Valley refuse to properly fence their dogs, poses a threat for her daughter and the other 15 or so children who live within a block of their house.

"It's the dogs out here that are a problem," said Patricia, "the dogs that nobody owns and nobody feeds."

Patricia is "thankful" Angela had a protective dog with her the day she was attacked.

Unfortunately, Margaret won't be returning to the show ring soon. She popped a few stitches and required another trip to the vet, said Patricia Friday. But the vet thinks the heroic hound will heal just fine, she said.

Margaret is four years old.